Wow, what a fantastic week we have had! The children become poets. We focused the week on looking at the structure of a poem, how to use humour in a poem and what makes a poem exciting to listen to even if it doesn't have pictures with it! Based on the poem "Anyone seen my dragon" the children then created their own. They came up with a chorus and a verse. The children had to describe what the dragon looked like and what the dragon enjoyed doing. They worked all week on editing and creating their poems. On Friday they then wrote them in their best writing and then read them to their peers. The children were very excited to then show their family their poems after school. Thank you to everyone who came to have a look!
Super Maths and Story Telling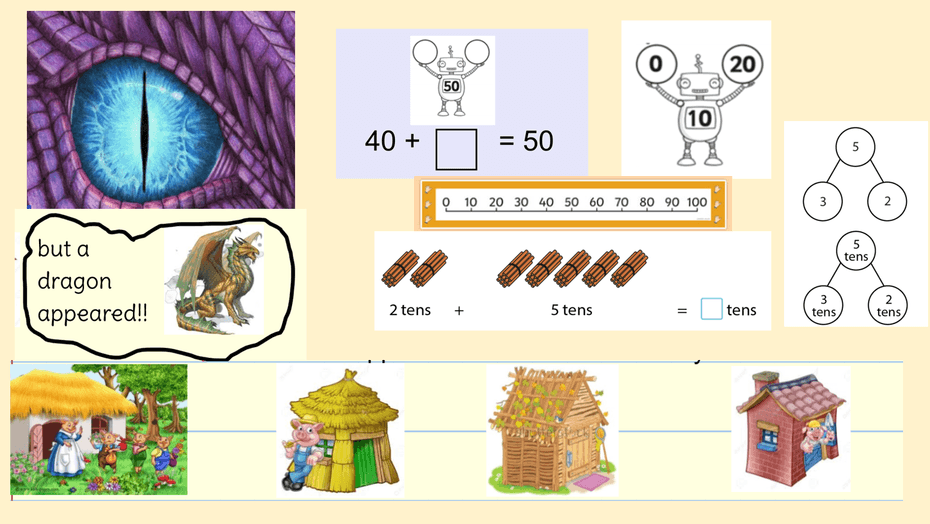 This week during Topic the children designed and painted their own dragons eye. We looked at colour mixing and if they use yellow, blue and red they can make many other colours! The children then used their knowledge of dragons and traditional tales to start to write their own not so traditional tale. The children are using the story of the three little pigs. They have written the beginning and middle parts of the story. Next week they will introduce a dragon to their story! In maths we have been looking further into tens. The children have been finding out whats 10 more or 10 less than a given number. For example what is 10 less than 40? Ask your children some of these questions at home - What is 10 less than 50? What is 10 more than 60? Ask them to play "i'm thinking of a number game". The children then used their counting knowledge to add 10s together.
This week we had a great time exploring science! The assembly was amazing and the children were blown away by the explosions, bubbles, and fire. We explored science in the classroom by playing different memory games and transporting water through a paper towel from one cup into the other cup. The children were amazed by how quickly the water transported. Why not try this one at home! In Maths we continued to explore groups of 10, the children can count in 10s to 100 and can tell you how many groups of 10 is in 20,30,40,50 .... 100. We have also used this knowledge to count in 100s. In English we explored the story of "There is no dragon in this story." The children then wrote how the dragon could be the hero in a traditional tale.
The children had a fantastic book week. We focused on the character of the 'Big Bad Wolf' and compared his features in the two different stories. The Three Little pigs and Little Red Riding Hood. The children came to the conclusion that he was the same wolf but in disguise! This week the children will be looking at a dragon and how the dragon could become a hero in these traditional tales. On Thursday the children dressed up in wonderful book character costumes. They went to different classrooms around the school for a book share, different teachers read different stories. On Friday we had a visit from the Author Andy Seed who carried out fantastic assemblies and workshops.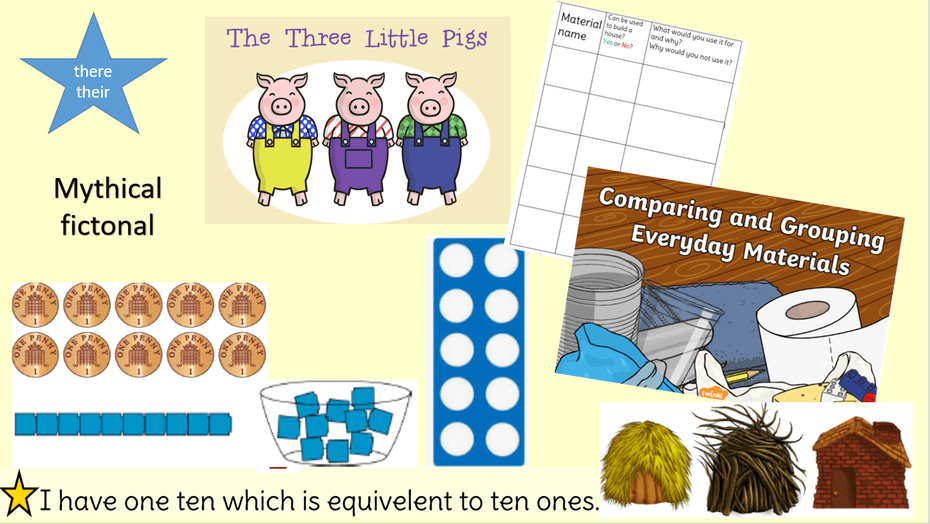 We have had a fantastic first week back after half term. The children have loved learning about their new topic. We started with the introduction to traditional tales and what makes it a traditional tale. The children loved talking about stories that have been around for a very long time. During these lessons we learnt two new words. Ask the children to show you the actions for mythical and fictional. In math's the children have been looking at the number 10 and what is special about it. In topic we focused on the story of the three little pigs and carried out a science investigation exploring different materials.
We had a fantastic last week of term. The children showed off what they have learnt this term during their 'Progress write' where they had to describe a penguin. The children are really using their phonic knowledge to sound out words and they are remembering finger spaces, capital letters and full stops. During Maths we had a stand alone week looking at measurement. The children looked at length, weight, capacity and volume. They worked sensibly in a team to use different measuring techniques.
The main focus of the week was our school value of Kindness. The children attended an assembly where they learnt what kindness means and how kindness doesn't have to cost anything. Through out the week the children received kindness challenges(delivered specially on a balloon). It was lovely to hear them asking their friends how they were feeling, opening doors, saying extra pleases and thank you's. During circle time the children complimented each other and told their peers what made them so great! They said such lovely and thoughtful comments. Thank you for taking part at home and bringing in their heart tokens to post of the tree display. If you have any left at home please bring them in after half term.
This term the children have worked really hard, they loved our topic and produced fantastic posters, information leaflets, art and English work. We can't wait to start our new topic and we hope this excites them just as much!
Have a lovely half term break.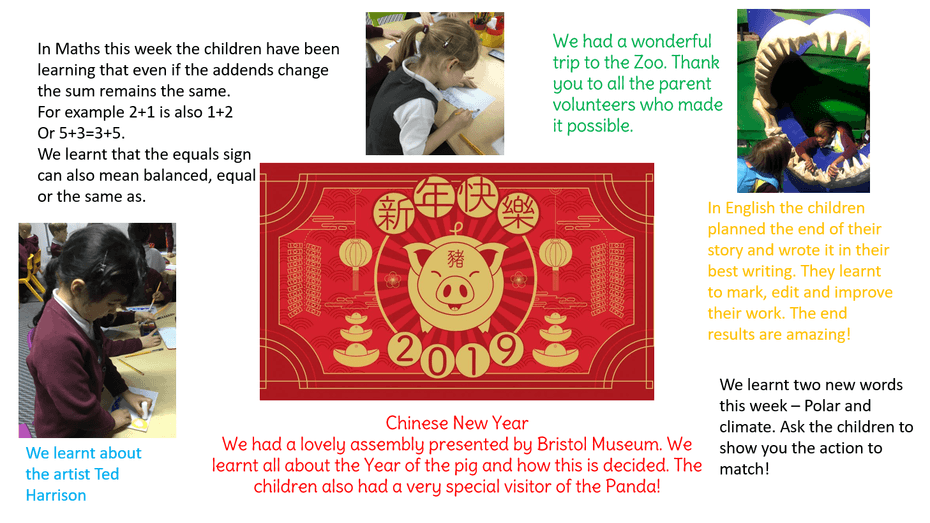 We had the best day at the Zoo!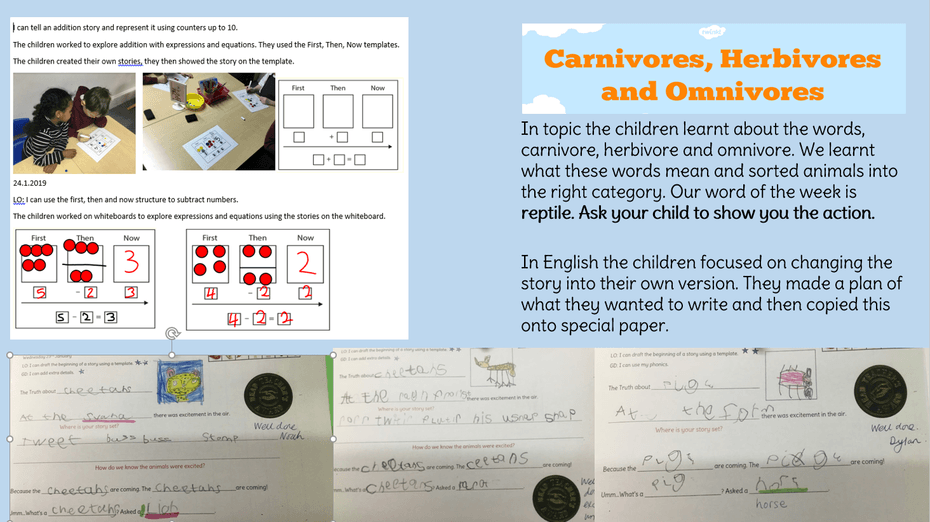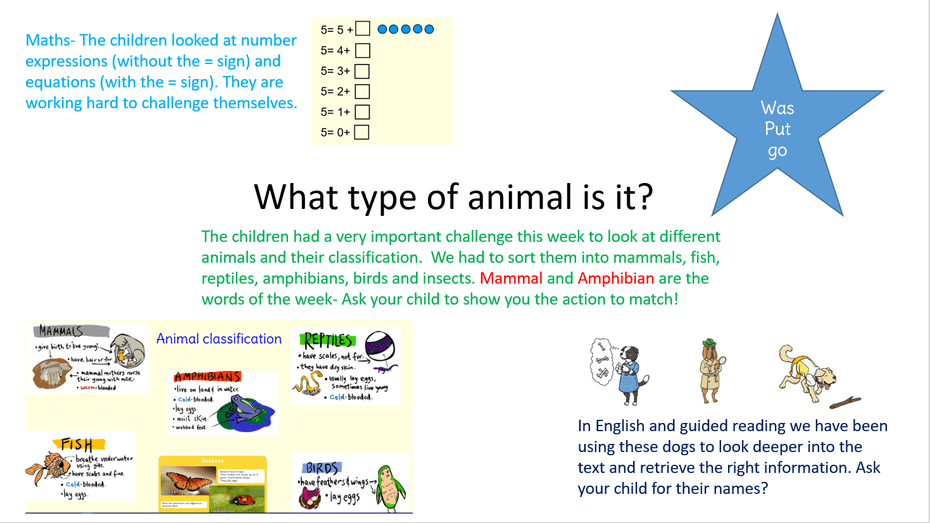 The children have had a fantastic first term in Year One. I have been so proud of all their achievements. The class blew me away during their performance of 'A little bird told me'. They worked so hard to learn their lines and all the wonderful songs. We had a lovely time on the trip to the Cathedral Last week, they put on a very special Nativity Trail for us. I also heard that the children had a wonderful time watching The Colour Catcher at the Old Vic. This week it has been a week full of Christmas treats and activities. The children have shown such pride in their craft making and we hope you enjoy the end result. Thank you very much for the gifts and cards. The Year 1 team felt very lucky. Have a lovely Christmas break and we shall see you in the new year.