Please check the MAIN YEAR 2 page for Learning Links.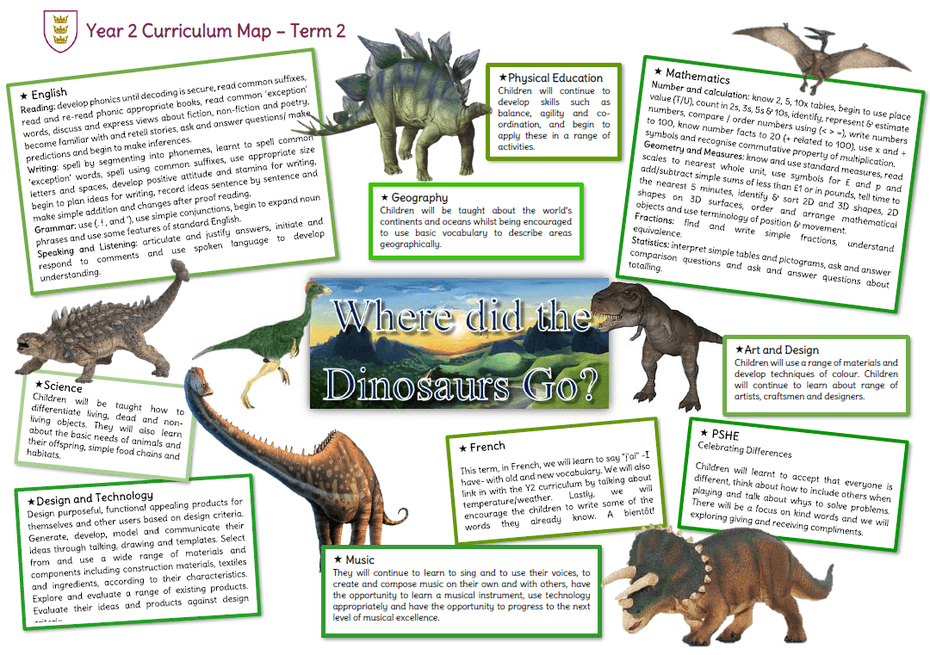 Spelling checks will take place every MONDAY!

7/1/2019 - 11/1/2019

Welcome back and Happy New Year! There have been some very strange goings on at Cathedral Primary School this week and Choral class were the perfect people to investigate! We had heard about the strange appearance of an unknown object in the hall and decided to take a look. We collected evidence and looked for clues to try to find out what it could be and where it had come from. When we returned to the classroom a mysterious picture of a strange creature was on our board. We eventually discovered that the strange object was the crashed spaceship of a mystery creature called 'Beegu.' We have continued to find out more about this strange being this week by translating what she is saying in the story to ask for help and we have used our imagination to design Beegu's home planet. We will be continuing to learn about Beegu and her planet this term and I can't wait to see what we find out next!
3/12/2018 - 7/12/2018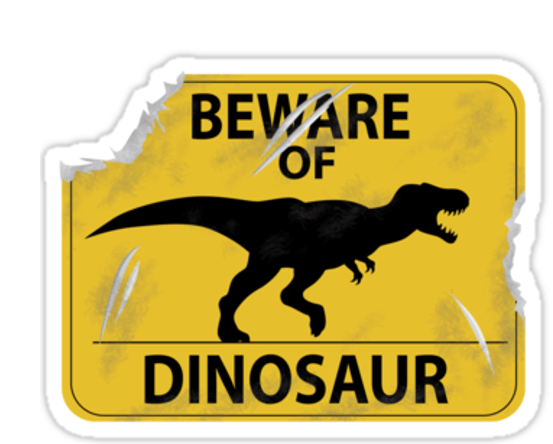 You won't believe what happened in Year 2 this week! On Thursday we had a very strange email from the cleaners about something that had been captured on a camera. We couldn't believe our eyes... THERE WAS A DINOSAUR INSIDE OUR CLASSROOM! Not only were we slightly scared but we had lots of questions. How did a Tyrannosaurus Rex get into school? If dinosaurs are extinct, where did this one come from? Has the school been damaged? Where is the humongous, scaly dinosaur now? So many questions.. so little time! If you spot the dinosaur roaming around Bristol please let a member of Choral class know! We have written down everything we know to let everybody know about this terrifying visitor!
19/11/2018 - 23/11/2018
This week has whizzed by with play practises, lots of singing and even some Christmas decorations being made, and we are still in November!!
This week we have been continuing to learn all about dinosaurs and what they eat. We sorted dinosaurs by their diets and created bar charts, we then learnt about food chains and how energy is transferred.
In maths this week we have been recapping how to find one more and one less to make sure we can do it really quickly and fluently. This will help us next week when we start adding and subtracting bigger numbers! We have also continued to practice counting in 3s and 10s from any number.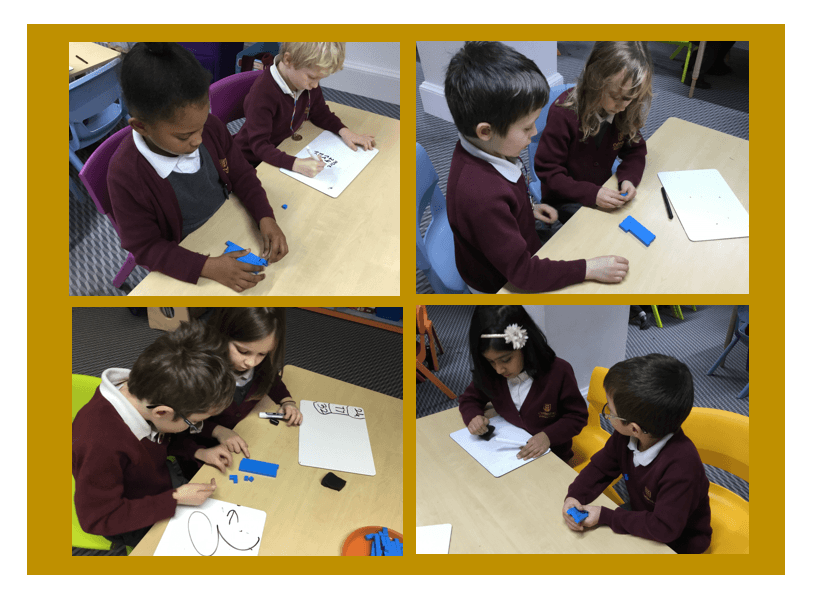 12/11/2018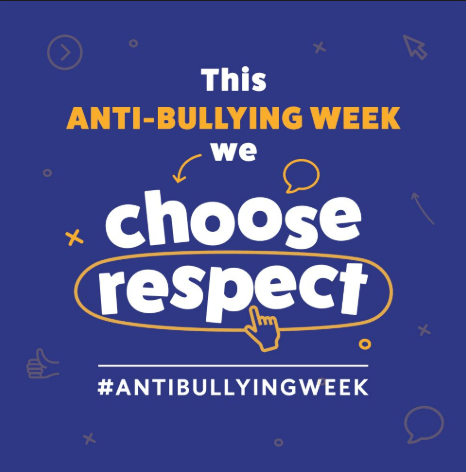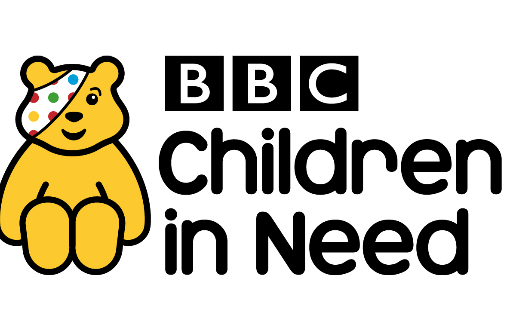 Wow, what a busy week it has been in Choral class! We kicked off our week with an Anti-Bullying week assembly and odd socks day. We have continued our discussions about anti-bullying week all week and the children worked together to create anti-bullying comic strips that showed this years theme 'choose respect.' We have also been listening and learning this years odd socks song, click here to have a listen at home!
We ended this week by celebrating 'Children in Need.' We had a whole class discussion about why we raise money for Children in Need and how important it is. We then enjoyed colouring in our own Pudsey's during choosing!
This week we have been learning lots of new vocabulary in English as we have been writing complex sentences using conjunctions (fancy!). The children have been amazing at using words such as 'but, because, that and or' in their writing to add more information. In Maths this week we have continued to find the difference in word problems and bar charts with great success! We have also been practising counting in 3s which has been going great, click here to hear our song!
Finally we are very proud this week that we have won the very important school award 'Ace Attendance.' This means that we have been the best class this week at arriving to school on time and ready for our learning! Keep up the great work Choral class and well done to all of you that arrive to school on time everyday, great job!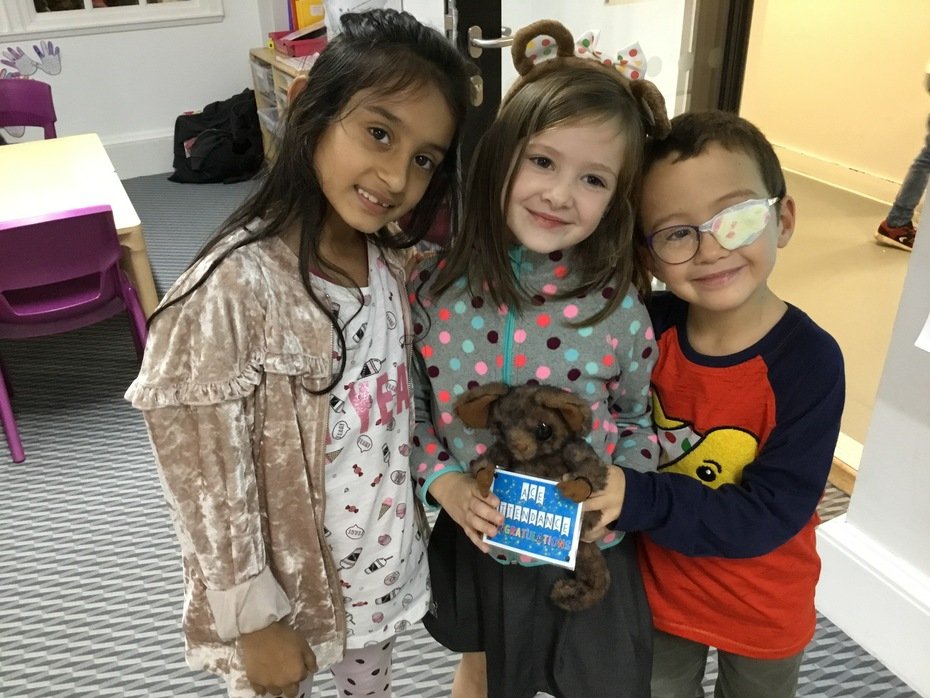 5/11/2018 - 9/11/2018
Welcome Back! And what a fun and productive week it has been! We kicked off our week by introducing our new topic 'Where did the dinosaurs go?' The children loved working collaboratively to sort out what they knew about dinosaurs already and adding their own dino facts. We have been finding out about the characteristics of living and non living things and of course things that used to be living - like dinosaurs!
We were also introduced to our new story for this term 'The Wondrous Dinosaurium', this week. We became book detectives using our inference skills and prediction skills by studying the front cover for clues. We then worked collaboratively using those skills and clues to sort out the pages of the story as they had got jumbled up. Finally we got to read our story and find out if our predictions were accurate, lots of us had made very good guesses using our inferences clues!
15/10/2018 - 19/10/2018

This week we have explored our final continent, Asia. We are very lucky to have a Japanese expert in year 2, the children loved hearing about Miss Lloyd's experience of living in Japan for a year. She taught us some Japanese words, we tried on a traditional Japanese kimono and we saw some of her pictures of beautiful Japanese cherry blossoms. We recreated our own Japanese artwork by carefully painting Japanese cherry blossoms, we had to be very careful to make sure each flower had five petals.
This week we also learnt about a very inspirational young person, Malala Yousafzai, who fought for her beliefs even when people told her that she shouldn't. We read Malala's book 'Malala's Magic Pencil' and thought about what we would draw with our own magic pencil to make our own lives, our friends lives and others lives even better.
Finally this week we have been continuing to partition numbers in maths to make 'magic 10' to add and subtract. There are lots of steps to partitioning but we have been so impressed with how well the children have been applying the steps and using their number facts to support their calculations!
8/10/2018 - 12/10/2018

This week we have zoomed off to visit another exciting continent AFRICA! We have loved exploring the continent of Africa and we found out all about an ancient tradition of mask making. We are creating our very own African masks using string and beads and brightly coloured patterns. We looked closely at the masks and noticed that the patterns are usually symmetrical, next week we will be decorating our masks to make sure our patterns are symmetrical too!
We have also become professional authors this week in choral class. First we wrote plans of our own version of the story 'Blown Away' where we changed our character and the setting they end up visiting. All week we have been writing different sections of our story and then carefully editing our story to make sure we have remembered all of our punctuation and used the best vocabulary we can. We have worked very hard to create exciting stories with a fantastic beginning, middle and end, I can't wait to read them!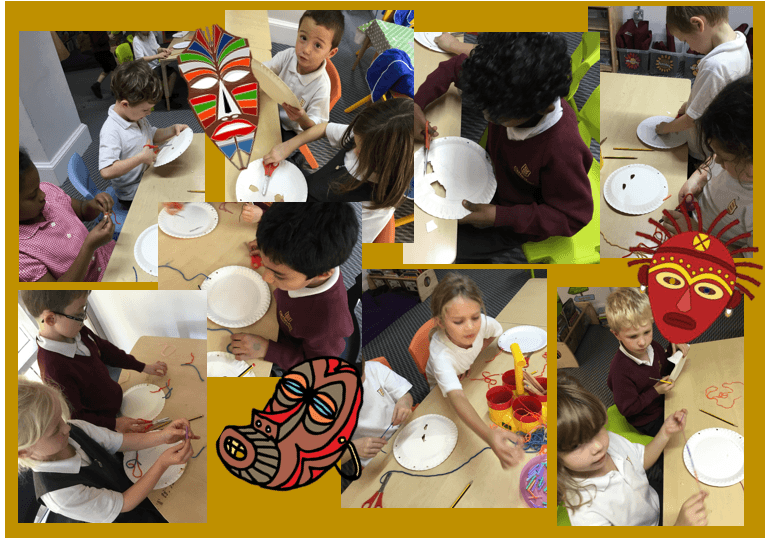 1/10/2018 - 5/10/2018
This week was finally our chance to go to Pizza Express to make our very own Pizza Express pizzas after we could smell the delicious smells wafting from Miss Lloyd's classroom last week!
We headed off to Pizza Express where we were given our own chef hats and aprons. Before we could begin we had to wash our hands. Next we were given a ball of dough to gently stretch using three fingers. The children were amazing at following the instructions of our Pizza Express chef! Next the children had to gently stretch the dough and shake off the flour before putting the base into a special pan. The children then carefully pinched the edges to create a crust before spreading the tomato sauce over the entire base. Finally we spread the cheese all over our pizza before the chef put them all into the extremely hot oven. We tidied up and read a story while we waited for them to cook then we headed back to school for the afternoon. I hope everyone enjoyed munching on their scrumptious pizzas when they got home!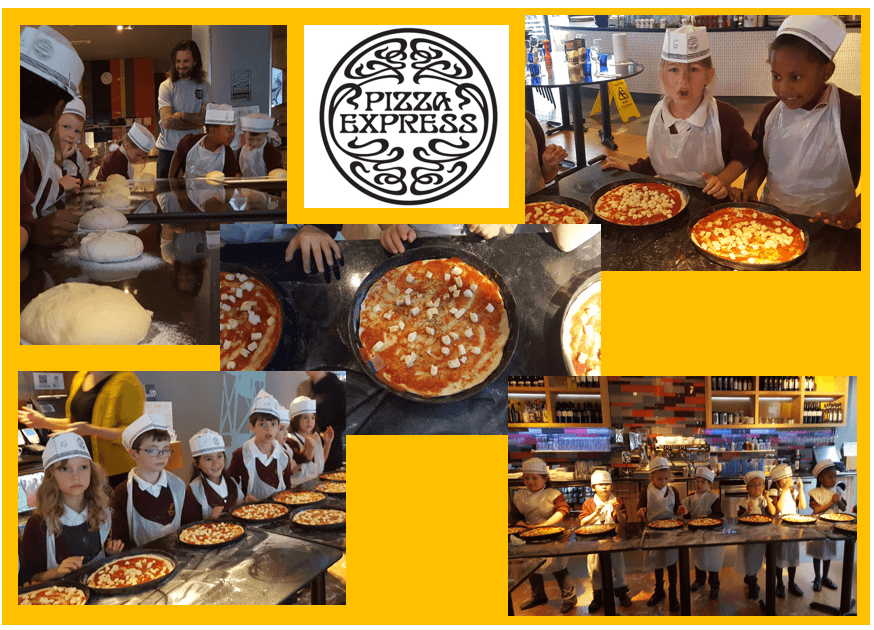 This week we also celebrated National Poetry Day by reading, preforming and creating our own poems. We worked in groups to learn the fantastic poem 'Everybody is doing it' by Benjamin Zephaniah about dancing all around the world, we threw in some of our own dance moves to help us remember the words. We then created our version of the poem about food that is eaten all around the world. I was amazed by the fantastic vocabulary used by everyone, writing these poems certainly made us hungry! Finally we watched the poem that has been specially written for NPD this year called 'change', click here to have a listen. We used this poem to inspire us to create our own change poems.
17/9/2018 - 21/9/2018

This week we have been celebrating all things South America! We kicked off our week learning about the South American artist Beatriz Milhazes. Beatriz is inspired by all things South American, in particular carnival season. We used her work to inspire our own colourful artwork by using different sized and shaped colour paper that we overlapped to create patterns. We were also inspired by the colours and noises of Rio Carnival so finished off our week with our very own Cathedral Carnival! We made our own crazy carnival outfits and played instruments as we paraded around Cathedral Primary School, it certainly brightened up a rainy Friday afternoon! We also found out about the different layers of the Amazon rainforest and all of the animals that live there to make our own rainforest pictures. We then used our knowledge of the rainforest to write incredible descriptions in English to practise writing expanded noun phrases. We have had another fun busy but fun week in Choral Class and we can't wait to see what continent we are going to visit next!
10/9/2018 - 14/9/2018
We have continued to have a fantastic time in Choral class this week. We were introduced to our key story this term 'Blown Away' and we have been writing lots of descriptions of the characters and the settings from the story, we are working hard to make our vocabulary as interesting as we can! In Maths we have been using our number facts to help us add 3 numbers as well as practising counting in 2s and 10s!
In topic this week we learnt a song to name the 7 different continents, click here if you would like to listen at home! We also listened to the traditional Polynesian tale of how Maui tamed the sun. We had the exciting challenge of working in teams to recreate the story, the children had to work collaboratively to design and build their own nets and ropes strong enough to hold up a ball, like Maui and his brothers did to capture the sun. The teamwork in the classroom was great and we have made some incredible designs, we will be testing them on Monday to see how strong they really are!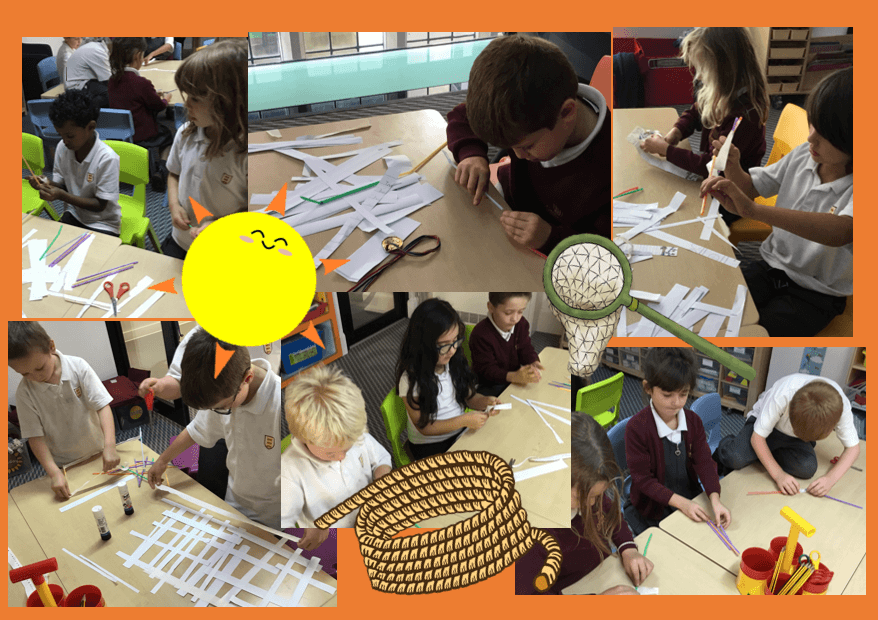 5/9/2018 - 7/9/2018

Welcome to year 2 Choral class! We have had a fantastic few days back at school and I have been amazed at how incredibly the children have settled back at school. We have had a busy few days getting to know each other, recapping how we behave at school and learning all about our new topic 'Globe Trotters' as well as squeezing in some maths, English, guided reading, yoga, art and choosing! Phew, what busy bees we have been!
Please visit our class page as it will be updated every week with our learning in the classroom as well as other useful links to spellings, calendar reminders and fun games!