Stages 2018
Stages 2018
18 April 2018 (by Emily Piti (cathedraladmin))
Pirates of the Cathedral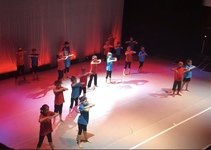 After the initial disappointment of the cancelled Stage show due to the unexpected snowfall, our Year 3 and Year 4 Stages dancers showed us what fantastic performers they are!
They were focused, professional, enthusiastic and totally entertained the audience. Even our own staff filming the dance couldn't help but whoop at the end!
Congratulations to all of the children, you are superstars!
To view the video please go to 'Children' in the menu and select 'Music' in the drop-down.