The Lion King
The Lion King
13 July 2018 (by Emily Piti (cathedraladmin))
Year 3 & Year 4 performance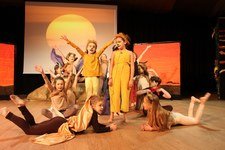 Congratulations to Year 3 and Year 4 who performed the Lion King last week.
We were super proud of the confidence and talent that was shown on stage. It's hard to believe they are only age between 7 and 9 years!
There is a selection of photos taken at the dress rehearsal now on the gallery. Please go to 'Children' and 'Gallery' in the menu to view these.