Please remember to click on the Year 1 home page for timetables, forest school information and website links!
As part of our topic this term, we having been thinking about how schools have changed over the years.
In the morning we travelled back in time to the Victorian days. We experienced a Victorian maths and English lesson and had to write on chalkboards using chalk! We spoke about how strict teachers used to be and about classroom punishments. We also had a Victorian PE lesson and practised some routines in lines. As we found out, children had to do chores in the Victorian times so we practised folding our jumpers.
In the afternoon we travelled back to modern day and had some time exploring newer resources. We had lots of fun playing games on the iPad, using the interactive whiteboard and building towers with the Lego.
Then it was time to vote for which we preferred. Most of us agreed that school life in the present day is far more fun and exciting than school life in the past! At the end of the day, we had a class discussion and reflected on past and present schools.
This week in maths we were comparing numbers. We have been creating our own 'greater than/less than' symbols using multi-link and whiteboards to help us understand how to use the symbol to sort numbers.
In English we started reading our new book for this term, 'The Colour Monster goes to school'.
We helped the Colour Monster by writing him a timetable for the school day. First, we ordered the pictures, and then we wrote a sentence for each image. Our learning objective was to use time connectives in our writing.
We have had another great week in Disco Class and the children are settling into their learning really well!
This week we continued our topic learning about Bristol schools and how they have changed over the years.
We became detectives and had to match modern day photos of our teachers with photos from when they were in school. We worked in pairs and it was a lot of fun!
In maths we have been exploring and comparing the lengths, area and weight of different items. We did lots of practical activities which included comparing the length of string and objects found in the classroom. We used mathematical language in our discussions when comparing two sets of objects.
In English this week, we have finished learning our 'Talk 4 Writing' for the story 'The Colour Monster'.
We performed actions to the story and practised retelling the story aloud. We have used our 'Sequencing Suki' skills to order the story using pictures and captions. Other children have used story mountains to retell the story. During the week, we have also explored a range of activities linked to the book.
In PE this week, we have explored coordination. We practised a variety of ways to move around a line of cones while controlling our movements and concentrating on our footwork. I was really impressed by the children's balancing skills and hopping!
At the beginning of the week we started learning all about primary and secondary colours in art. We started with the three primary colours (yellow, red and blue) and began to explore colour mixing. By the end of the lesson, we were able to name the three primary colours and had some ideas about how to mix primary colours to make various secondary colours (green, orange and purple). We had lots of fun mixing the paints and created these beautiful colour wheels.
By the end of the week, we applied our understanding of colour and we created a colourful pathway of the Colour Monster journey. Here are some of our final results!
Disco Class have had a wonderful first week back at school!
We are so proud of year 1 for showing such enthusiasm with their learning this week!
We introduced our new school value of 'resilience.' The children have shown lots of this over the last few days and have settled back into the school routine.
We have also enjoyed playtimes on our new playground.
In maths this week, we have completed lots of activities in our math carousel, exploring numbers 0-10. We have been learning our number formation, practising our counting in 1s and representing numbers using resources including Numicon and multilink.

This week in Disco Class, The Colour Monster arrived in our classroom!
We had a class discussion and thought about why he was here. We listened to the story and completed different carousel activities which included making a model of a monster, designing our own colour monster and writing about our favourite colours.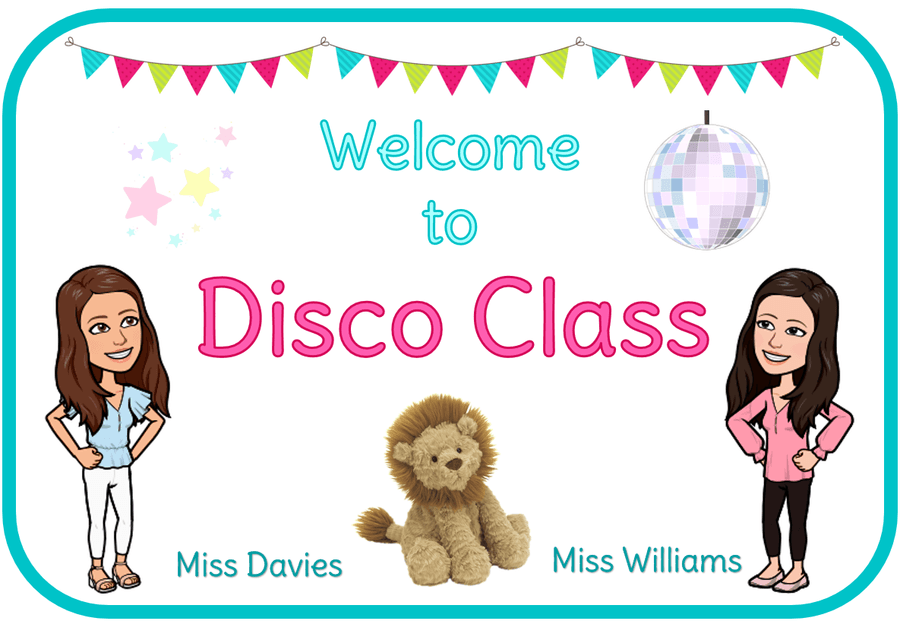 Here are a few pictures of your new classroom when you join myself and Miss Williams in Disco Class.
We are excited to welcome you all back and we are looking forward to an exciting year ahead!