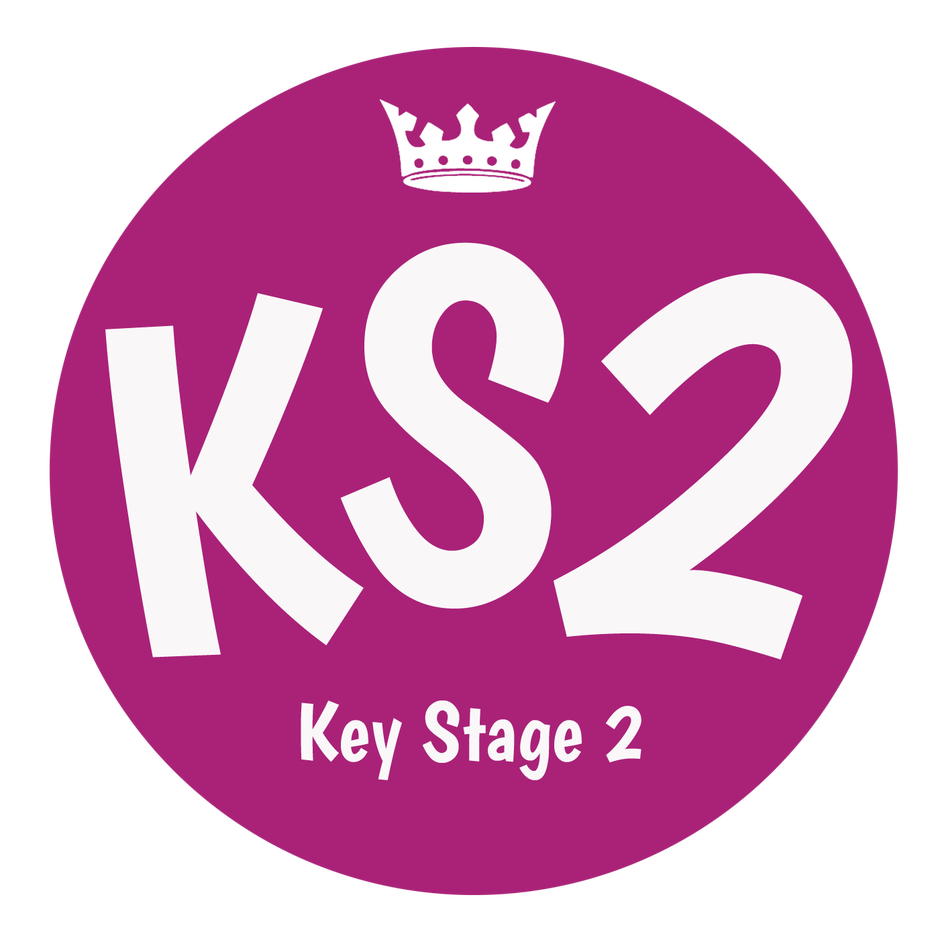 Hello and welcome to our Year 3 Reggae Class page!
Keep up to date with our learning here!
UPDATED CLASS Reminders:
Our class PE sessions are now on Friday mornings. We ask that children Come to school in their pe kits on Fridays and bring their uniform in a carrier bag/kit bag to change into after their session. Their kit will come home at the end of the day. Please see miss edwards if you have any queries.
It has been another VERY busy week!
SPELLING BEE
On Tuesday, Year 3 took part in the Cathedral Schools Trust Spelling Bee. All children played spelling games and helped to solve countdown conundrums that were very tricky! 6 spellers from CPS made up our Spelling Bee team, competing to spell words from the Year 3/4 spelling list. They even had to spell words out loud with no paper or pencil to help! After many tough rounds, it was announced that CPS were the winners! We are all so proud of their effort, bravery and spelling knowledge. Well done!
SEAN TAYLOR VISIT
We were also lucky enough to have an author visit us on Tuesday following on from our World Book Day fun! Sean Taylor spent an hour with us, answering questions and discussing his books. He also helped us to work on some poetry. Some of the results are shown below! Reggae Class loved their time with him and learnt lots.
WATER CYCLE MODELS
Check out our model-making lesson this week! After planning their design, along with the equipment and materials they would need, the children worked in pairs to create their water cycle model. We'll update the website when all models are finished so keep your eyes peeled!
WESSEX WATER VISIT
To end our VERY busy week, we had a visit from Wessex Water. During our workshop, we learnt about where our water goes after it goes down the plughole and how it is cleaned. We were also told about what happens when wet wipes and other things are flushed down the toilet. We saw some pretty gruesome photos!
Finally, we took part in an experiment to see why PAPER, PEE and POO are the only things allowed down the toilet. The children shook bottles of water with either a wet wipe or toilet roll in them. The toilet paper disintegrated while the wet wipe remained complete!
Ask your children to recreate this experiment for you at home!
WORLD BOOK DAY!
What a fantastic day we had on Thursday. The children looked amazing! Thank you to parents and carers for all the effort. we enjoyed a day of activities: making bookmarks, character profiles, world book day assembly and book sharing! here are some pictures of the children's outfits. see how many characters you can guess!
Engineer Leaders Award
We were lucky enough to have a visit from an amazing robotics engineer this week! Our visitor shared with us how she got into engineering, who and what inspires her and what she does with robots. She stressed the importance of team work, believing in ourselves and learning by making mistakes! She encouraged us to think about our own inventions and told us about the Primary Engineer Leaders Award.


As part of the award, we will be inviting children to enter a competition to design an invention that solves a problem! We will ask any children that wish to enter the competition to bring in their design from home and we will enter them by the closing date, which is 25th March.
More information to follow via letter...
School Council Elections
This week we held our School Council elections! Those children that wanted to put themselves forward were able to share why the class should vote for them and some of the things that they would like to do if they were elected. I was so impressed with the confidence, effort and presentation skills. Well done to all those that took part but especially to Annie, who was elected as the School Council representative for Reggae Class!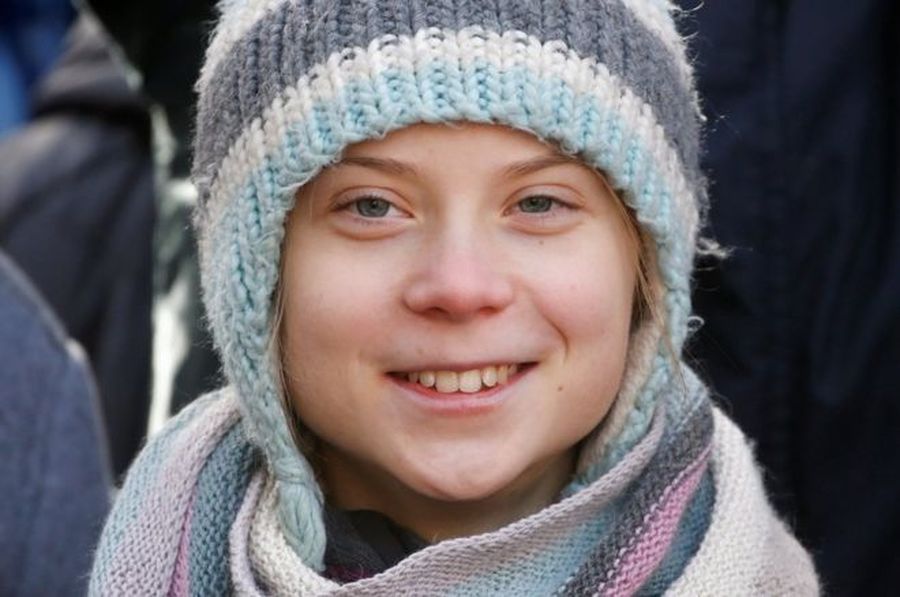 Next week in class we will be discussing arguments for and against the Youth Climate Protest. Please use Friday to find out what the protest is about and have a think about arguments for and against it. You could design a poster or placard to share with the class on Monday.
Remember to also do some reading and practise your spellings and times tables.
----
Thank you to all those children that produced climate work. We enjoyed hearing all about it!
Reading
Remember you should be aiming to read at home 4-5 times a week. This can be independent but we do encourage you to also share a book with an adult some of the time. This should be recorded in your reading record. You can then earn a star for our class chart!
Click on the link below to see our 100 recommended books for Year 3 and 4. How many have you read?
A River
Over the last few weeks, we have been reading a book called A River by Marc Martin. The story takes the reader on a journey from a little girl's desk down the river and describes all the wonderful things she sees. We end our journey with the boat hitting a storm on the ocean, only to find out that it was all just a dream!
Our learning has focused on how verbs, prepositions and adjectives can be used to describe and create pictures in a reader's head. We ended our lessons by planning and writing our own version of the story and publishing them with our very own illustrations! They are AMAZING! Take a look below...
Idling Week!
This week, children have been learning about the importance of turning car engines off while waiting. They have learnt lots of fascinating facts about how much pollution is created from cars left idling. We know how much this means to the children and parents at Cathedral Primary School so we are looking forward to seeing the impact of these sessions on reducing the number of cars idling around school.
As part of this, Reggae Class had a workshop using pollution buttons! The red pollution buttons are from cars and the blue are from buses. When everyone travels by car, there are lots of red pollution buttons. When people choose to travel by bus, only one blue pollution button is produced for all of the people on the bus. The best option would be to walk, cycle or scoot (if possible!) as these don't create any pollution buttons!
Ask your children to find out more!
We started our new topic 'Where does the water flow?' with an exploration of water art! We looked at how different artists have used a range of media to represent water and then had a go at creating our own. We used collage, water colour paint, marbling and pastels.
We also thought about what we knew already about water and what we would like to find out more about. These questions will help to guide our learning for this topic and by the end, we will be experts! These are our BIG QUESTIONS:
Where does water start? Does it come from the clouds?
What is the journey of a river?
Do rivers flow to the sea or the sea flow to rivers?
Why is water so important?
HAPPY NEW YEAR!
We hope you all had a fantastic holiday and rest! A big thank you from all of us for the kind wishes, cards and gifts received before Christmas.
We are looking forward to the terms ahead and an exciting 2020!
Open Classroom
The children really enjoyed sharing all the fantastic learning they have done over the last two terms as part of our 'Flintstones: Fact or Fiction?' topic. We had Stone Age necklaces, Stonehenge information leaflets, posters, stories and lots more to share!
Drumming Performance
Over the last two terms, Year 3 have been learning to play the African djembe drum. They have learnt how to play different rhythm patterns and how to change the dynamics. Using all they had learnt, they created a class composition to perform. Year 1 really enjoyed watching their performance!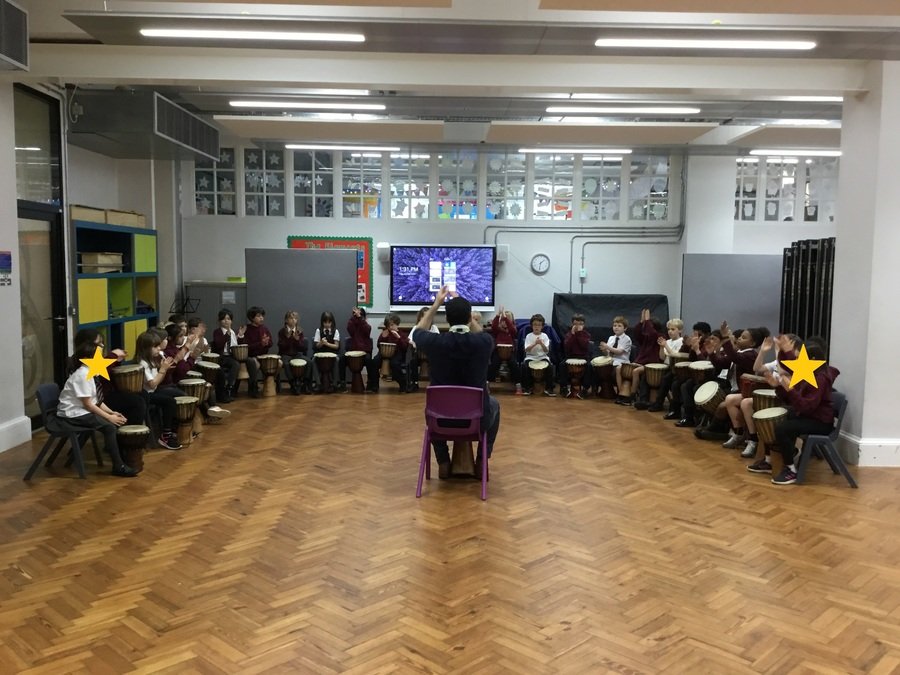 Christmas Performance
Here are our Christmas Performance words to allow children to practise at home. We look forward to seeing you on Monday 9th December!
One More Sleep 'til Christmas
There's magic in the air this evening
Magic in the air
The world is at her best, you know
When people love and care
The promise of excitement is one the night will keep
After all, there's only one more sleep til Christmas
The world has got a smile today
The world has got a glow
There's no such thing as strangers when
A stranger says "hello"
And everyone is family, we're having so much fun
After all, there's only one more sleep til Christmas
Tis the season to be jolly and joyous
With a burst of pleasure, we feel it all right
Tis the season when the saints can employ us
To spread the news about peace and to keep love alive
There's something in the wind today
That's good for everyone
Yes, faith is in our hearts today
We're shining like the sun
And everyone can feel it, the feeling's running deep
After all, there's only one more sleep til Christmas
After all, there's only one more sleep til Christmas day.
Remembrance Day 2019
On Monday, we spent time thinking about all those men and women who have fought on our behalf in wars and conflict over the last hundred years or more. We learnt about what life was like in the trenches and how it would have felt to be a soldier during World War One. Using all of this knowledge and understanding, the children wrote acrostic poems. Here are some to share with you...
Anti-Bullying Week 2019
'Change starts with us'
As part of anti-bullying week, we took part in a workshop to learn about bullying, its definition, and how it affects others. Children now understand how to spot bullying, what to do and who to tell and why this is so important. If you would like any more information on this, please visit https://www.anti-bullyingalliance.org.uk/anti-bullying-week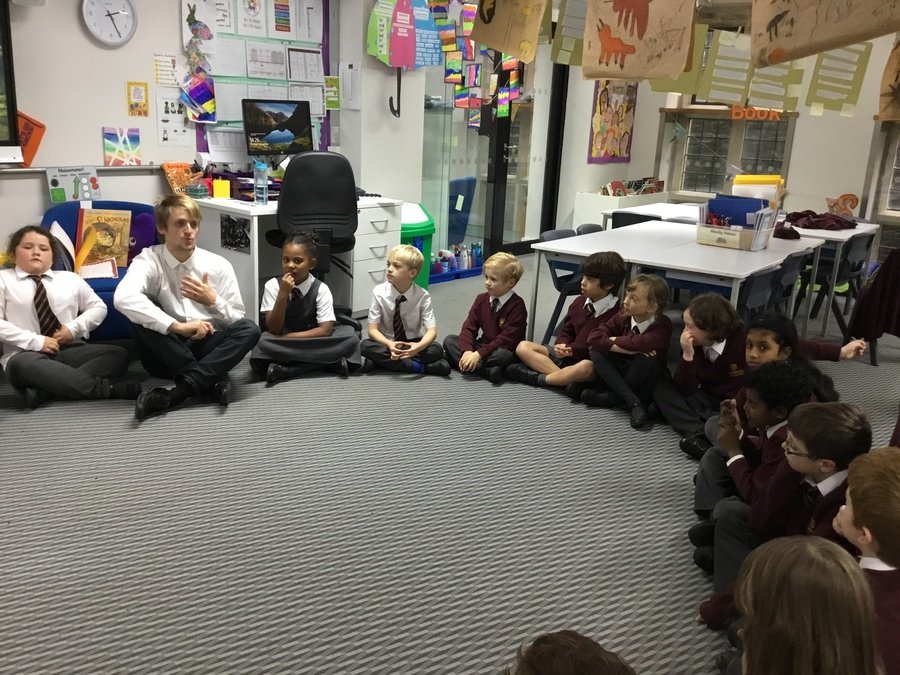 Green Team Election
We had a whopping 13 children put themselves forward for our Green Team Election in Reggae Class. They each presented why they thought they should be Reggae's representative and what they would do on our behalf. We were all very impressed by the effort and enthusiasm. A big well done to Ryan who earned the most votes; however, I was incredibly proud of them all!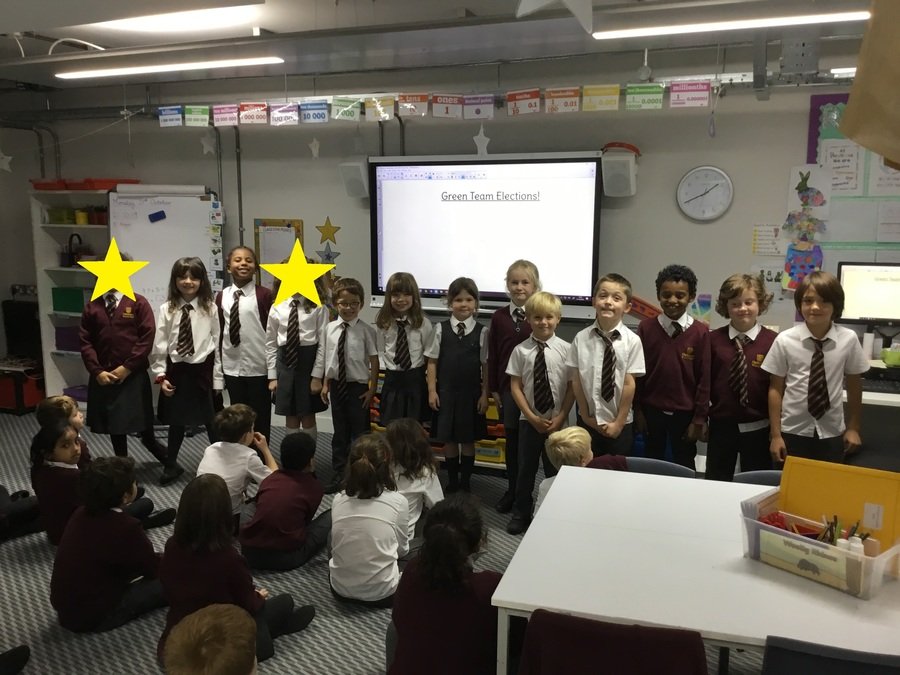 Teeth and Bone Necklaces!
We have been learning about all the things dead animals were used for during the Stone Age. Nothing was wasted! Teeth and bones are thought to have been used to make ornaments and even jewellery. So on Wednesday we began preparing our own necklaces made out of animal teeth and bones - yuk! Luckily for us, our teeth and bones were made out of salt dough! We will wait for them to dry and then thread them onto a necklace. Take a look at our very own Stone Age beads below...
UPDATE!
Wow! Look at our Stone Age necklaces. We threaded our beads onto some string. Aren't they amazing?!
Adding and Subtracting in Maths
In Maths this week we have been practising adding and subtracting using mental strategies. We worked out pairs of numbers that total 100 by using our knowledge of number facts to 10. For example,
96 + ____ = 100
If we know that 6 + 4 = 10
Then we also know that 96 + 4 = 100
We also practised adding and subtracting multiples of 10. Why not ask Reggae Class to show you at home!
Abominable
We were lucky enough to get FREE tickets to see the new Dreamworks film, Abominable! We walked over to the Watershed and got settled in our seats. No popcorn though unfortunately! The film was brilliant. We all loved it and came back buzzing with ideas for our own story. So the next day we wrote our own version of Abominable, changing parts of the story if we wanted to. The finished stories were fantastic! We will try to show them to you on here soon.
We recommend you watching the film if you get the chance!
Stepping into the Stone Age at Cheddar Caves
To help kick-start our topic on the Stone Age, we took a trip Cheddar Caves! Here, we learnt all about life during this time with the help of our very own Stone Age man. He shared facts on the tools they used and the animals you would find. He explained how fire was made and how it was discovered! Ask us to share some of these facts with you - you will be amazed!
We met the Cheddar man, a skeleton found millions of years ago inside the cave. Fortunately for us, it was only a model one as the real skeleton is kept at the Natural History Museum in London. You can find out more information here: https://www.nhm.ac.uk/discover/cheddar-man-mesolithic-britain-blue-eyed-boy.html. Perhaps you could even visit it in real life!
We visited Cox's Cave to learn how life changed during the Stone Age and even met some of the predators faced by humans during that time - eeeek, a bear!
Our other learning this week....
In Science, we're learning about nutrition and how to keep healthy. We explored the main food groups and created posters to show what a healthy plate looks like. Take a look below...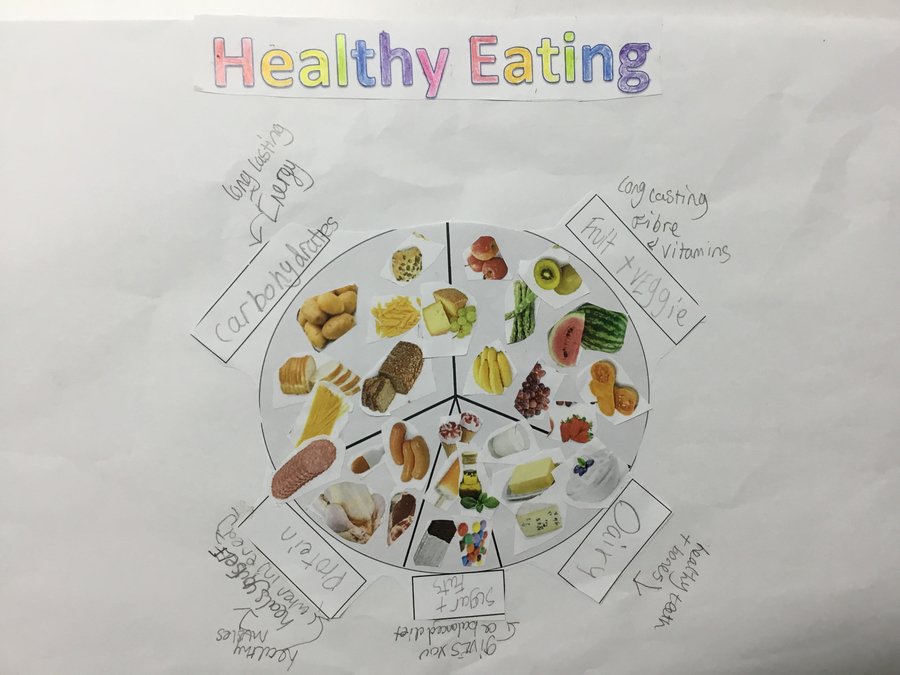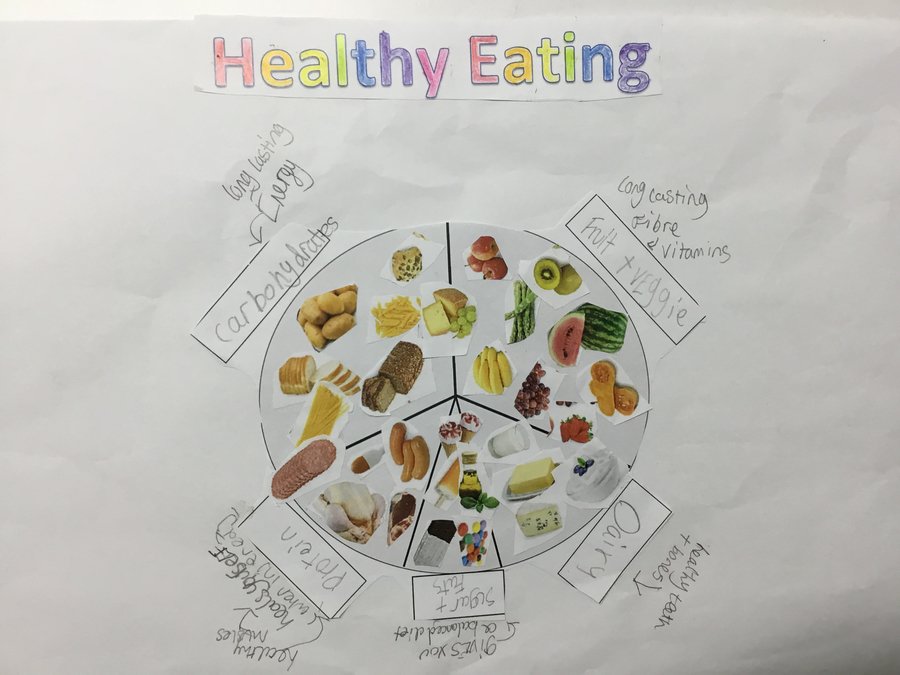 In English, we're reading the book, Stone Age Boy, which is about a boy who unexpectedly travels back in time to the Stone Age.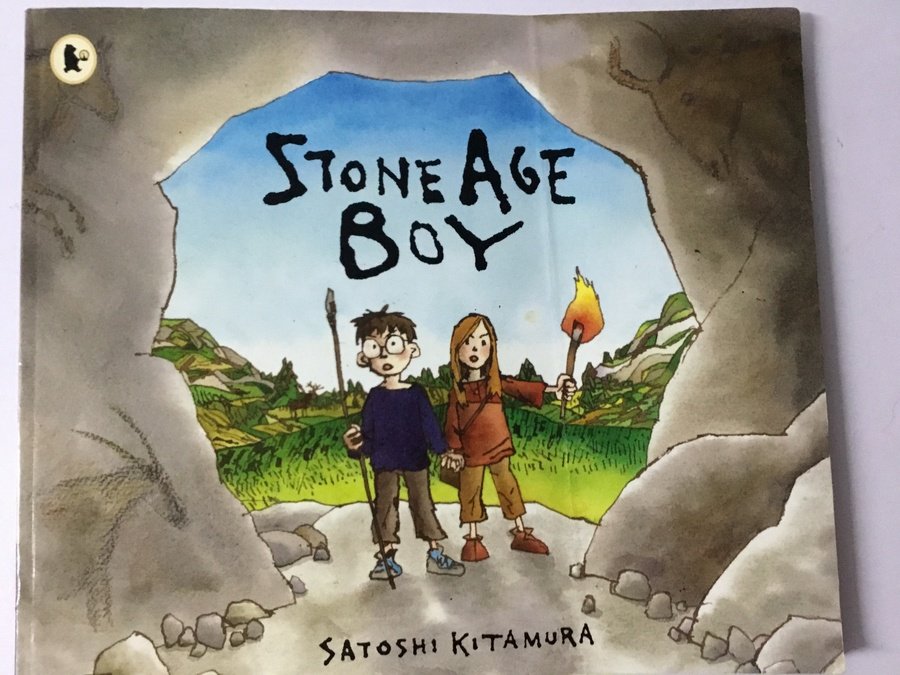 In Maths, we've been finding 1, 10 and 100 more or less than 2- and 3-digit numbers. We have been using the greater than, less than and equals symbols ( < > =) to compare numbers, and as always, we've been solving lots of problems!
The First Week of Year 3!
What a wonderful start to the year we have had! We have spent the first week getting to know each other and finding out about Year 3. The children have enjoyed all the new things we've explored, and are ready and raring to go!
To start our year, we have discussed what makes a dream classroom and a dream school. The children shared their ideas for us to use to make our own Class Charter (a set of responsibilities to follow). Take a look at their ideas below...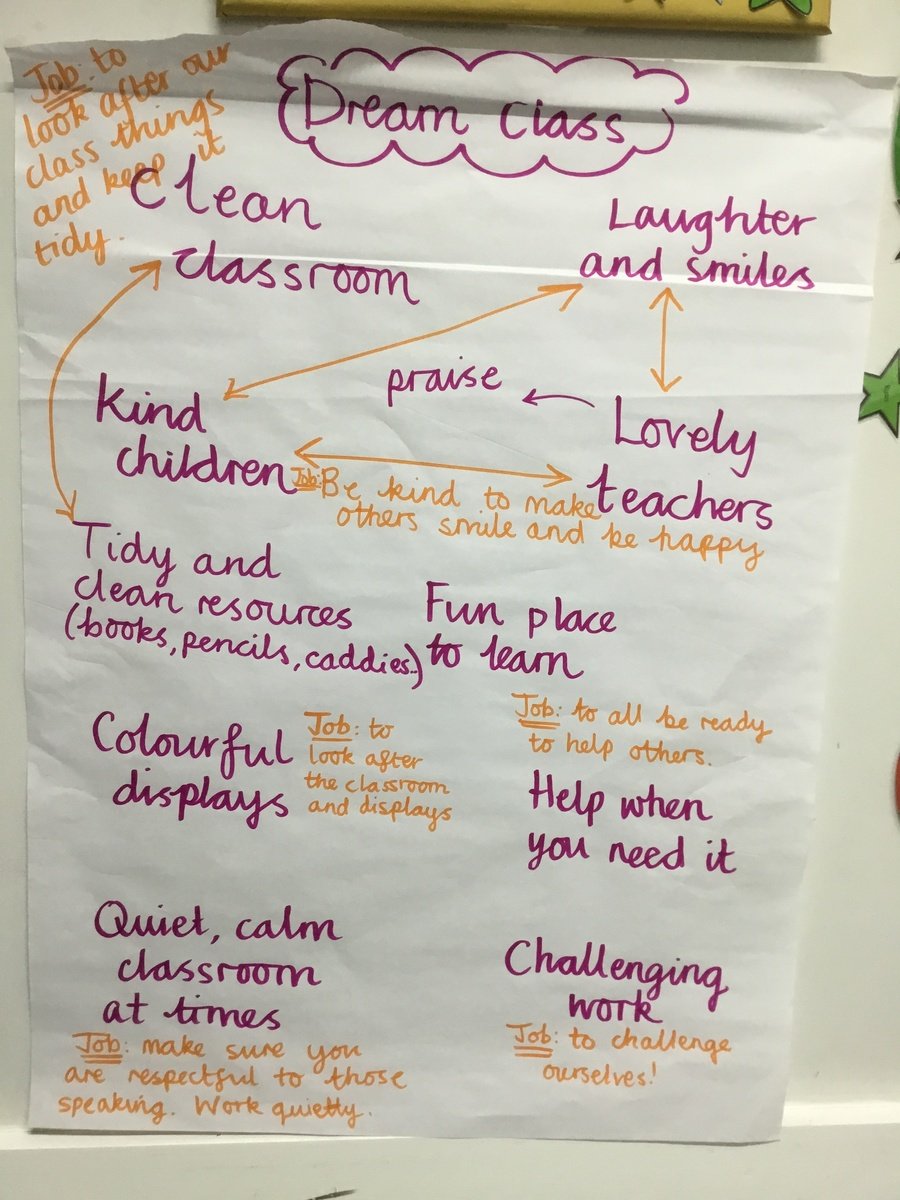 How to be a bucket filler
In English we have been reading 'How to be a bucket filler', a book that teaches us about kindness and making others feel good! The children have made it their mission to fill people's invisible buckets with kind words and actions. We made our own buckets and the children wrote lovely messages to each other. Ask them to tell you all about it!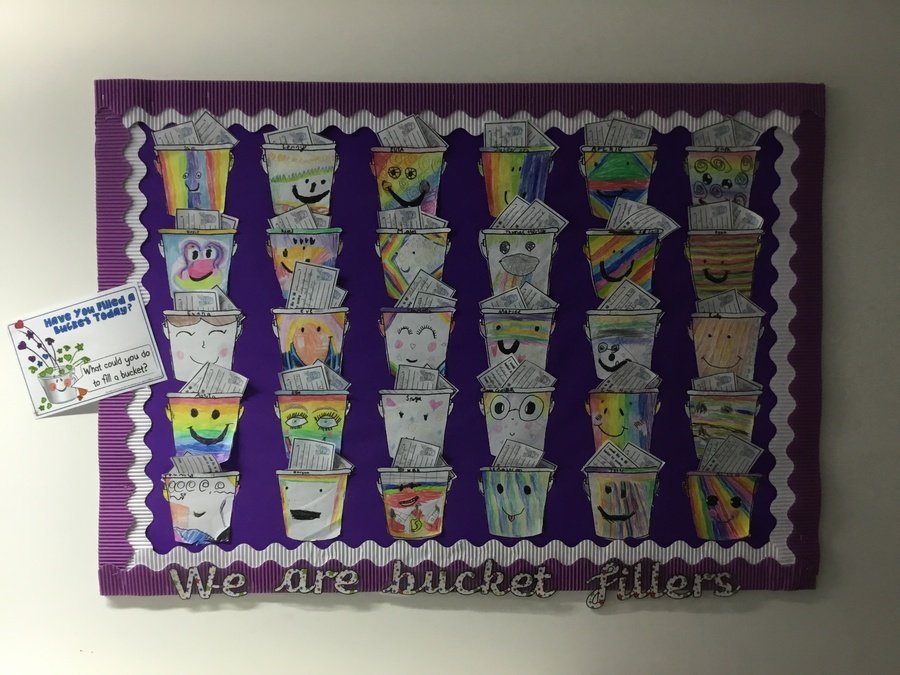 We are unique! We are special!
As part of our start to Year 3, we explored what it means to be unique and how special it is that we are all different. After all, how boring would it be if we all looked and acted the same! As part of this, the children completed a self portrait, using a mirror to really look at themselves. The paintings are brilliant!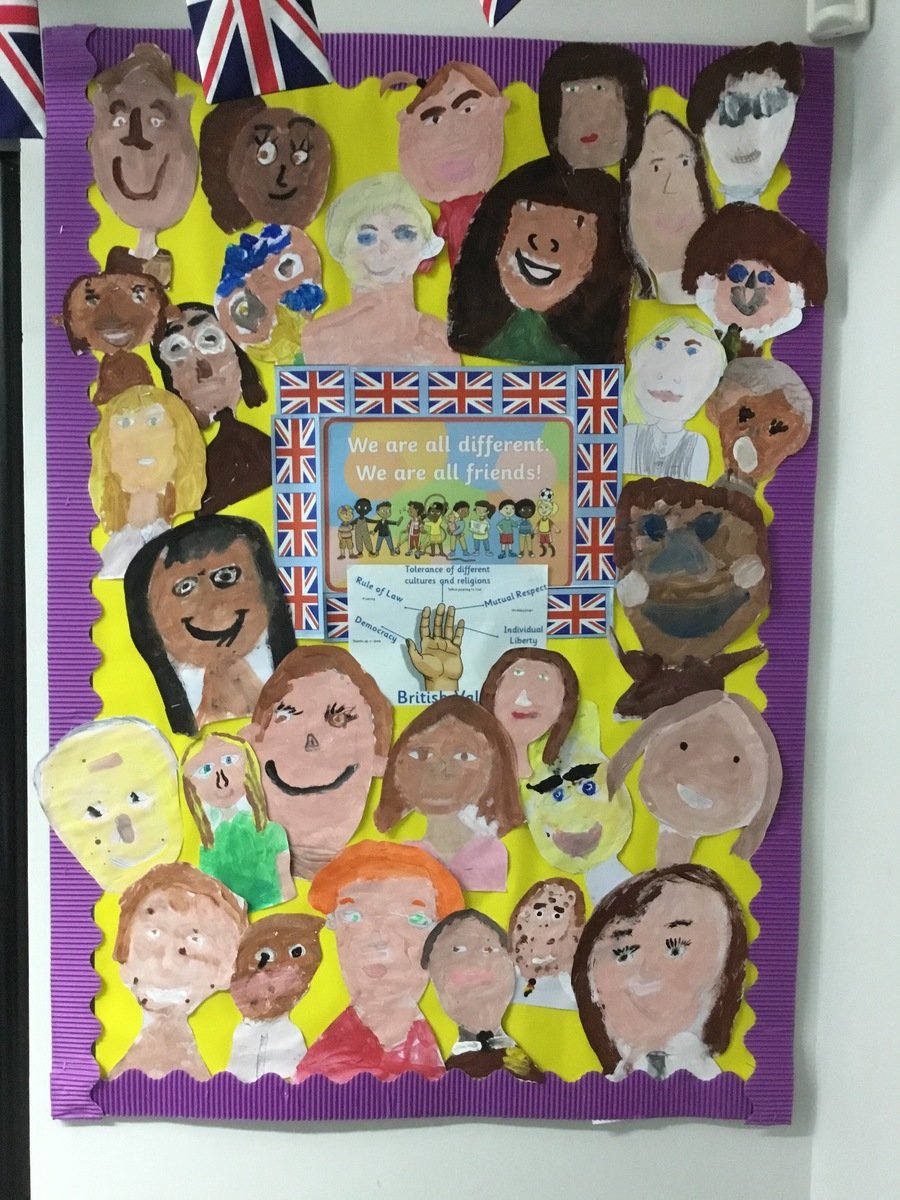 Travel Tracker
This week we launched our Travel Tracker scheme to encourage families to think about the way they come to school. We appreciate that it is not always possible to walk or cycle to school; however, parking 10 minutes from the school and walking, scooting or cycling from there could have a huge impact on the environment and our bodies! Here's a picture of our launch assembly...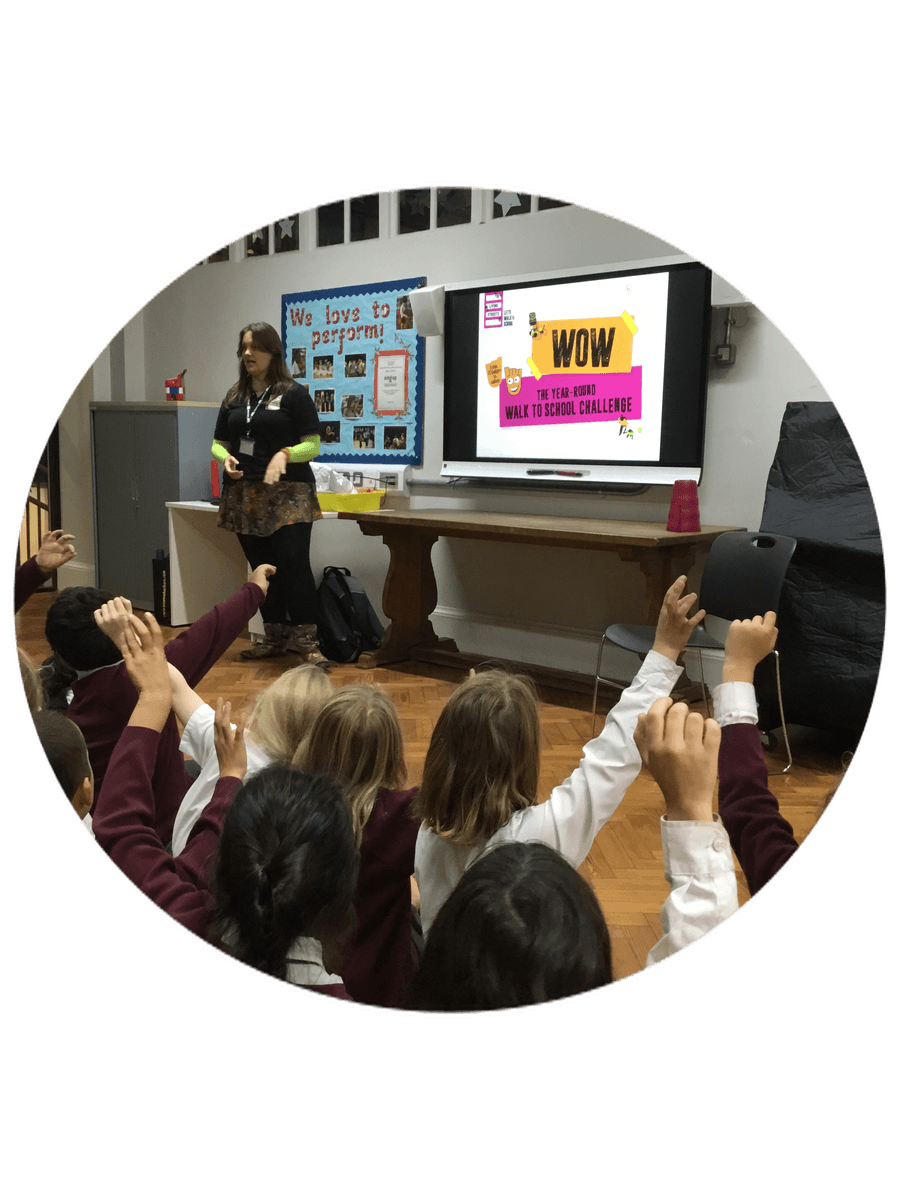 Flintstones: Fact or Fiction?
We have thrown ourselves into our very first topic on the Stone Age! We launched the topic by watching a clip of the Flintstones and asking questions about life during the Stone Age. Did dinosaurs exist at this time? Did mammoths help with the washing up? Did they have stone money? By the end of this topic, we will know the answers!
This week we turned our classroom into a Stone Age cave! We explored some real-life cave paintings and had a go at creating our own using charcoal and pastels. We now understand that this is one of the sources that historians have used to learn about the Stone Age as no written records exist from this time. Have a look at some of our prehistoric designs below!