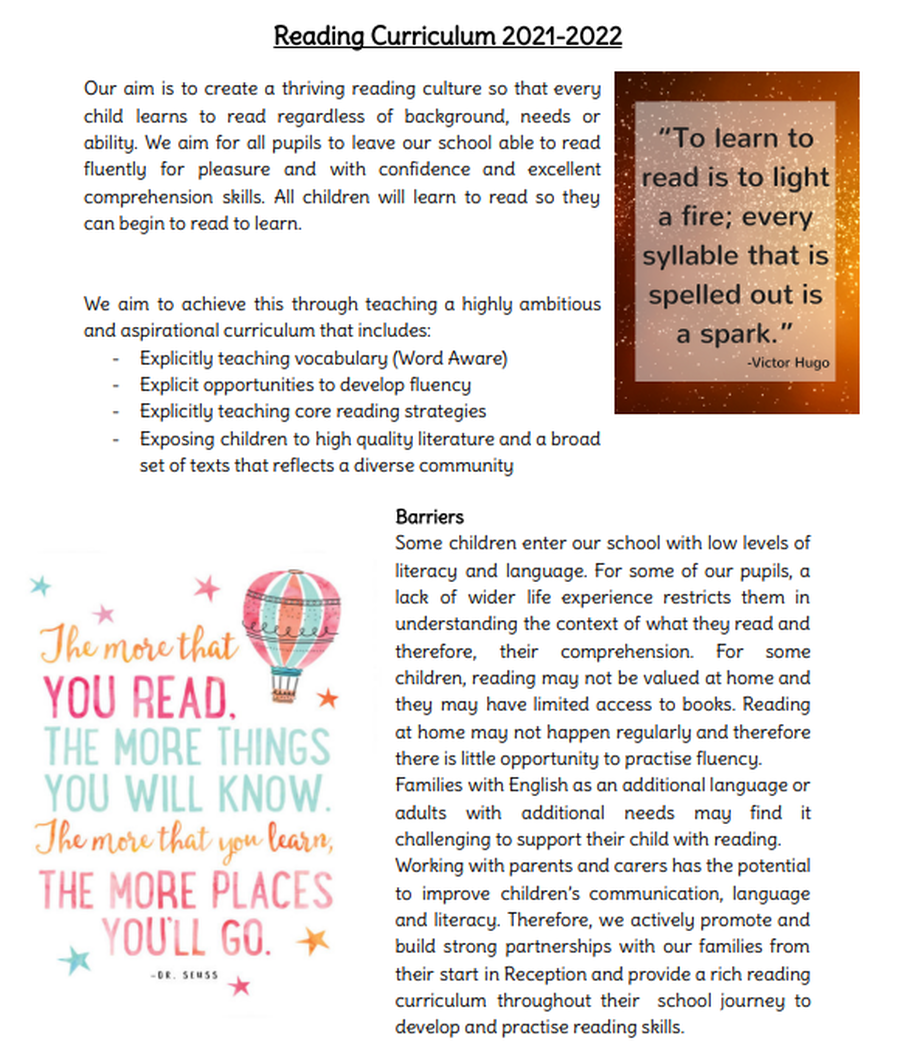 How do we prioritise reading at Cathedral Primary School?
We see reading as a core skill that permeates throughout our entire curriculum.

Each of our classrooms has a reading corner where pupils can sit comfortably during the day to read a book. Books are rotated regularly by staff to match the class topic and pupils' interests. The area is resourced with comics, magazines and newspapers to extend reading for pleasure and in the EYFS and KS1 classrooms teddies and puppets are used to encourage reading aloud and re-telling of stories.

Each classroom has a selection of books to choose from including fiction, non-fiction and poetry.

We endeavour to use books and high quality texts to enrich the learning and provide access to a range of genre.

Every child in school participates in ERIC (Everybody Reads in Class) sessions every day.

1:1 reading occurs on a daily basis throughout the school. All pupils not at age related expectations read 1:1 at least once a week.

We record 1:1 reading at home with the use of a reading journal to record targets, progress and to aid communication between school and home.

Reading is evident throughout the school day in 1:1 reading sessions, Guided Reading lessons, Phonics, displays and book corners.

Every child in EYFS and KS1 participates in Guided Reading with their class teacher at least once a week.

Every child in KS2 participates in whole class reading lessons three times a week.
How do we promote a love of reading?
Every day teachers read to their classes to promote a love and enjoyment of stories, immersing them in the world of imagination.

Our learning opportunities incorporate a range of fiction, non-fiction and poetry, to expose pupils to different texts they may enjoy.

We endeavour to ensure all staff are expert readers through ongoing professional development opportunities and sharing of best practice.

Our staff model reading skills, discuss interesting texts and share their own love of reading.

Whole Class Reading lessons and Guided Reading sessions allow time for pupils to discuss their reading, helping them to make sense of what they have read.

Our unique site enables pupils access to Bristol Central Library and their wealth of books to explore.

We encourage pupils in each class to share their love of reading e.g. by inviting them to recommend great reads to their peers; attend book swaps and making bookmarks for the books they have read.

We celebrate reading with events throughout the year such as Extreme Reading and World Book Day. During Book Week we often have author visits, run workshops and hold events for children to enjoy reading and being read to in different ways and by different members of the school community
How do we make sure children make progress?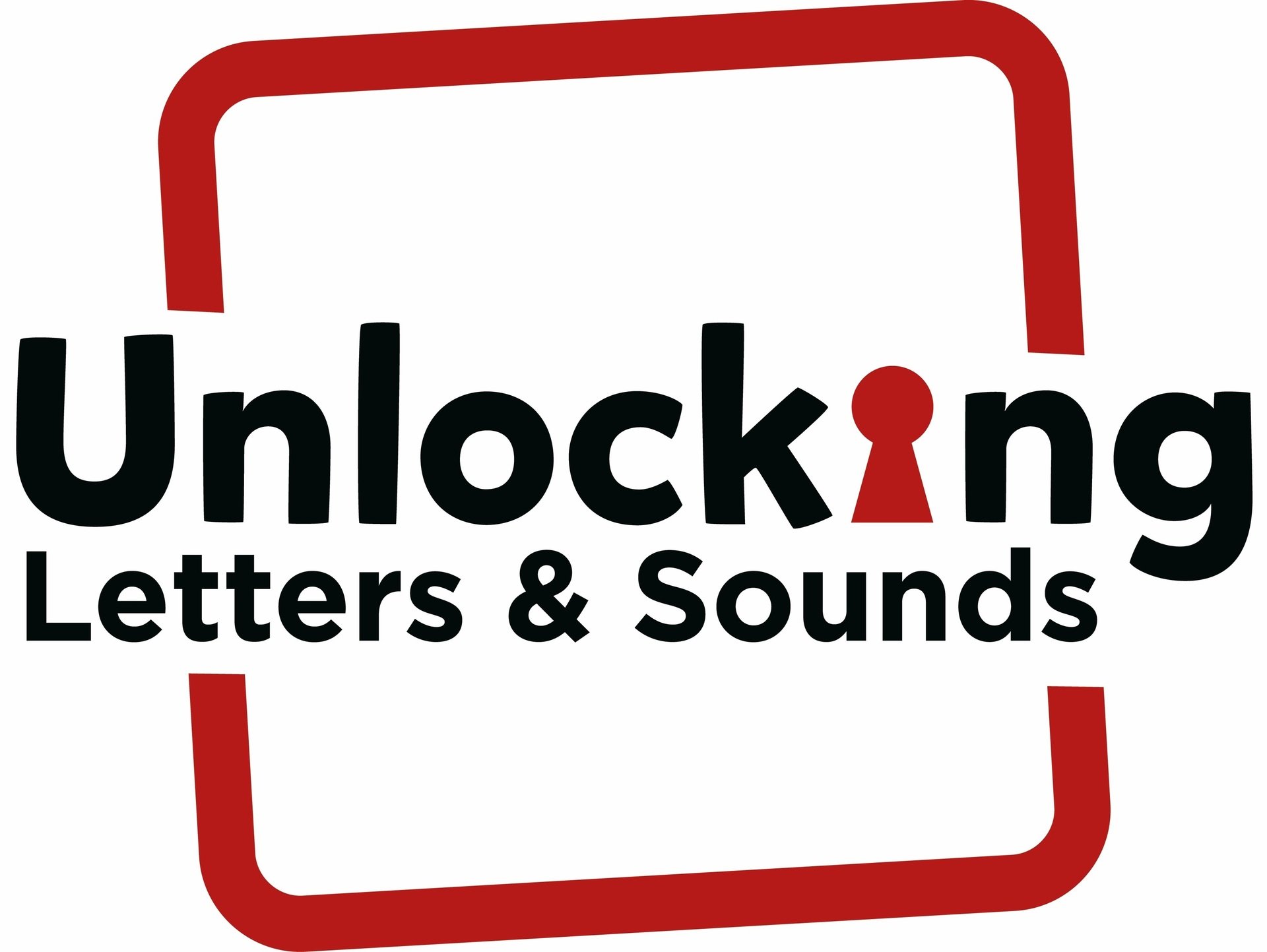 Phonics - Unlocking Letters and Sounds
We use 'Unlocking Letters and Sounds' to introduce synthetic phonics systematically. Children are initially taught letter sounds and are then introduced to letter names and taught to blend sounds in order to read whole words.

Phonics lessons follow the same sequence of Revisit, Teach, Practise, Apply, Revise. Planning includes assessment for the graphemes taught. Phonics is assessed every 3 weeks to identify gaps in learning to inform planning and intervention.

Intervention is targeted, fast, repeated practice that is well planned and closely monitored for progress.

We recognise that reading is key to unlocking the wider curriculum and provide additional support that is informed by the latest assessment information. In all year groups, the lowest 20% readers are identified and the appropriate support is put in place to promote rapid progress. This may include additional 1:1 reading or PiXL intervention. The lowest 20% is reviewed regularly. Where possible, we also seek to create a keep up, not catch up culture. As a result, same day intervention is used where possible to ensure any gaps in knowledge and skill are filled quickly. In Reception and Year One for example, daily phonics interventions target pupils who are not yet secure in particular phonemes.

Children read phonically decodable books which enable them to apply the knowledge they acquire in phonics lessons in a meaningful context and experience success in reading. Decodable readers relate closely to the stage of phonics being taught in class and are practised regularly in school and at home. Decodable readers are used until children have mastered Phase 5 Phonics.

Decodable books are used primarily in EYFS and Year One. From Year Two, they are used as part of the reading curriculum for pupils continuing to master their Phase 2-5 Phonics, as well as with those pupils who may be new to English and/or with SEND.

Alongside this, children are exposed to a wide variety of high quality texts where they are able to build the comprehension skills needed to understand what has been read.
Reading - Decodables and Beyond
There is a clear progression of reading skills from Reception to Year 6 against which pupils' progress is measured and gaps are noted and acted upon.

Children move on to book-banded reading books when they no longer need fully decodable texts. Our aim is for all children to become 'free-readers' whereby they are able to choose from a wide selection of books from home, the library and book corners. We ensure that these are age-appropriate in both content and difficulty of text.

Each pupil has either one guided reading session per week (EYFS and KS1) or whole class reading lessons three times per week (KS2). The sessions are well-structured and provide opportunity for pupils to read independently which is adult-led and enables pupils to develop fluency, comprehension skills and prosody.

Pupils who need further opportunity to practise reading because they do not read at home, are given priority to read to an adult in school. Class teachers ensure volunteers, who come into school to hear readers, are trained to support reading appropriately.

Staff have regular pupil progress meetings where any gaps are identified and planned for with whole class teaching and intervention as necessary.

We assist parents with supporting reading in parents meetings, reading information events and information provided on the website.

The school supports pupils to be expert readers by developing the key skills of clarifying, questioning, explaining, retrieval, summarising and predicting.
-Clarifying: understanding and explaining what we have read including new vocabulary
-Questioning: ensuring we understand and checking others do too.
-Explaining: developing an understanding of inference and deduction
-Retrieval: using and finding evidence in the text.
-Summarising and sequencing: identifying the main points of the text by recapping prior reading, scanning and using key words.
-Predicting: Using the knowledge of what we have read to make predictions about forthcoming events or actions in a story
-Fluency
When children are able to decode effectively, we focus on fluency which is the skill of reading at a conversational level, with appropriate pace and intonation and few errors. Fluency is not an end in itself but a gateway to comprehension. Fluent reading frees cognitive load to process the meaning of what is read.

We aim for all of our pupils to be fluent readers at the end of Key Stage One.
Spellings and Vocabulary
Spelling Shed is used to teach spelling rules across KS1 and KS2. This programme ensures that children are learning both spelling rules and words in a systematic and structured way that match to the progression as stipulated in the National Curriculum. This programme builds upon children's pre-existing phonic knowledge to help them master new spelling rules and vocabulary from their year group's word lists.

Word Aware is used as a teaching sequence across the entire school to ensure vocabulary is explicitly taught to our children. During these lessons children discuss word meanings, link new meanings to those already known and study the etymology of words. These words are displayed and referred back to regularly to ensure they are securely remembered.
How do we monitor, moderate and assess reading?
Children are assessed in Reading throughout their time in Primary school and we do this in a range of discrete and more explicit ways.
Early Readers - we assess our early readers every 3 weeks based on their knowledge of taught graphemes and their ability to blend.

K

S1 - Guided Reading - teachers use a reading skills recording sheet to record observations during guided reading group sessions. This will keep track of targets, key teaching points in each session and any pertinent comments about individual readers to be referred to for future planning and to accelerate progress.

KS2 - Whole Class Reading - children record their answers to comprehension questions in a Reading Skills book which is then used by the teacher for assessment.

All children have a "Reading Record" book where adult feedback is recorded both at home and at school.

We use PM Benchmarking from Year 2 until they are 'free readers' which assesses both reading fluency and comprehension of a levelled text.
Summative Assessments
We use PiXL reading assessments three times per year to assess the children in test conditions and develop their confidence with doing assessments. We also regularly assess the children using SATs questions in Year 2 and Year 6.
How do we match the pupils' reading books to their phonic ability?
Decodable Texts
Our teachers use daily formative assessment strategies to monitor children's progress in Phonics lessons.

Our Early Readers (children who are working on mastering their phonics - these include children from Reception to Year 6) are assessed on their phonics knowledge and ability to blend sounds to read words every 3 weeks. This information is used to carefully match their ability to books that they will be able to read - these are known as decodable texts.

These books

introduce new words to the children that only contain graphemes already taught and mastered in step-by-step progression that matches our teaching of Phonics.

Decodable books offer children an opportunity to practice what they have been taught with guaranteed success. We want our children to have reliable strategies when they encounter any new word. We know that good decoding is the foundation of fluent reading. Decodable books enable all children to develop good reading strategies.

In EYFS and KS1, we encourage our children to take home a 'sharing book' as well as their decodable text to read with someone at home. This is to share a wide range of books and to explore new vocabulary. These sharing books help our children to develop a love of reading.

We encourage the children to re-read their decodable text at least three times before changing it. This develops their decoding, fluency, comprehension and prosody skills.
Beyond Decodables
We use the Oxford Reading Tree book band colours when children have moved on from needing fully decodable texts. We monitor progress in reading and then match their ability to the stage of reading on the scheme. This is done through PM Benchmarking as well as guided/whole class reading notes and from adults hearing pupils read individually. Teachers and LSAs monitor and check that these books are changed regularly. Children will move onto the next stage when they are confident they have mastered the skills of the book band level. When pupils are confident and skilled readers in KS2 they become 'Free' readers, meaning they are able to choose any age-appropriate texts for themselves to read.

Teachers and LSAs monitor the books chosen by 'free readers' to check if the books are suitably challenging for them.

Guided reading books are also selected carefully to challenge the reading of different groups of pupils in school.
How do we teach phonics from the start?
Phonics teaching begins with our youngest pupils from the time they join us in Reception. We ensure the 7 aspects of Phase 1 Phonics is promoted and embedded within our curriculum, exposing pupils to sound rich activities which provide the foundations for reading and writing. We complete baseline assessments in communication, language and literacy to support and identify speech, language and communication needs.
Pupils begin learning Phase 2 letter sounds in week 3 of Reception. Following the Unlocking Letters and Sounds scheme, pupils are immersed in a directed teaching approach which embeds systematic phonics skills as the core skills for reading. Graphemes are taught in a specific order, and regular assessment informs future planning and interventions.
Please see our Phonics Progression for the order that the graphemes and common exception words are taught.
To support the learning in school, pupils take home phonics sheets that match the sounds they have learnt each week. They also take home their phonically decodable reading book to reinforce the sounds taught and the common exception words taught. Phonics is discussed with parents in the Reception Curriculum Meeting and parents are given resources to support Phonics at home.
When Reception pupils have started school another meeting on supporting phonics is provided for parents.

There is a further Phonics Meeting provided for parents when in Year One to discuss further ways to support at home and the Phonics Screening Check.
How do we support pupils to catch up and unlock their potential?
We believe that every child can learn to read. For some children, this can take longer, and for them to become skilled, confident and fluent readers will require careful and considered support.

We believe that with high quality teaching, effective keep-up support and targeted interventions, every child can become a reader.

We use both formative and summative assessments to support our teaching of Phonics and reading. Formative data informs day-to-day planning and teachers adapt and change this according to the pupil needs.

Using our summative data (Phonics assessments) we can carefully match Phonics interventions to the needs of our pupils so they accurately support the specific learning gap for the child.

Pupils who did not achieve their phonics check receive interventions (daily reader/extra phonics support) and/or work in a group which is teacher driven.

Where progress becomes a concern, parents are invited to a meeting with the teacher and advice is given as to how they can further support their child at home.
Beyond Phonics
Below, is an outline of the interventions that may be put in place depending on the needs of the children to support them beyond Phonics and decoding text:
EYFS and KS1
Language for thinking - using pictures to support discussion skills, prediction, inference and deduction

Colourful semantics - using pictures and discussion to support understanding of of sentence structure

Talk Boost - developing language, turn taking, retelling, explaining skills through games and activities

Trugs - games to support blending and application of phonics in reading individual words

A-Z literacy - supports reading and writing some of the early high frequency and common exception words in context

Additional Phonics teaching and/or intervention for pupils who did not pass the Y1 Phonic Screening

Rapid Readers - sight recognition of high frequency words then practiced in context of fiction and non fiction texts

Additional individual reading - with targets set around Phonics/decoding, fluency or comprehension skills
KS2
Additional Phonics teaching and/or intervention for pupils who did not pass the Y1 Phonic Screening

Rapid Readers- sight recognition of high frequency words then practiced in context of fiction and non fiction texts

Precision Teach - individual daily teaching of phonics or high frequency words

Nessy - online program developed by dyslexia centre to support phonics

Dyslexia screening - online individual screening for pupils where parents and staff have concerns about dyslexia

Additional individual reading - with targets set around Phonics/decoding, fluency or comprehension skills
How do we train staff to be reading experts?
The whole school received Phonics training for our chosen programme - Unlocking Letters and Sounds.

Teaching staff, including Teaching Assistants receive reading and phonics training as and when required. This may be a specific focus as identified on the SDP or a personal target identified in performance management or specific training identified by staff. This may include in-house training or external training depending on the needs of the staff.

Subject leads for writing and reading attend the trust network meetings to share best practice and cascade relevant information back to the school.

The Headteacher, School Improvement Partner and subject leads monitor the teaching of Phonics and Reading and conduct pupil conferencing to ensure agreed approaches and consistency are applied across the school.

Subject lead has received Reading Leadership training from the English Hubs about how best to support the school with monitoring the teaching of reading.

The reading lead monitors reading and offers guidance to staff with follow up actions.