Tag Rugby Event
Tag Rugby Event
13 April 2018 (by Emily Piti (cathedraladmin))
Year 3 and Year 4 Tag Rugby Event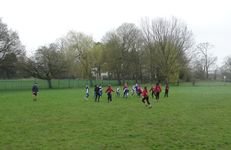 Congratulations to a group of our Year 3 and Year 4 children who took part in a Tag Rugby Event today. They showed great sportsmanship and determination throughout the day.
The Year 3 children were the only Year 3 group that attended the event and Mr Baynton was very impressed with the performance they gave as the youngest in the event.
Well done you sports-stars!