ZooLab
ZooLab
4 May 2018 (by Emily Piti (cathedraladmin))
Special visitors at CPS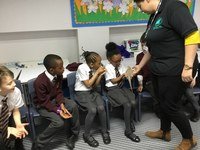 As part of their Topic, Year's 1, 3 and 4 received visits from ZooLab this week who had some interesting animals!
They learnt about the habitats the animals liked to live in and how to handle them safely. Among the visitors were, Drogo the bearded lizard, Squeaks the Rat and a rather large spider called Henry!
The children showed confidence and courage at handling these special guests.