Art Exhibition
Art Exhibition
14 May 2018 (by Emily Piti (cathedraladmin))
Budding Artists at CPS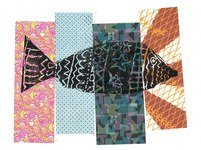 Thank you to everyone who visited our Art Exhibition last Friday. The children really wowed us with their artistic talents and we loved all the creativity that they showed.
We had a fantastic workshop with visiting artist Ella Rice and the images the children produced from this were stunning.
As always the children's canvases were a real treat. we had over 160 returned with every kind of 'sea' influenced design you could think of. We are really lucky to have such a wealth of creative talent at Cathedral Primary School.