Project Zulu
Project Zulu
8 June 2018 (by Emily Piti (cathedraladmin))
Zulu Choir visit CPS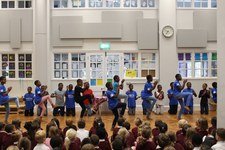 We were incredibly privileged today to have a visit from the Project Zulu Choir. This choir is made up of children from two primary schools in the Madadeni Township in South Africa.
Project Zulu are visiting the UK performing their inspiring music and dance to many schools. They are also performing in St Georges's this evening (Friday) and all money raised will be used to improve facilities at their school.
Our children were mesmerised by their wonderful harmonies and fantastic dancing. It was such a brilliant way to end our week.
There are a few tickets left for tonight's show, so please do go along if you can.