Campers Return
Campers Return
5 October 2018 (by Emily Piti (cathedraladmin))
Year 5's trip to Longtown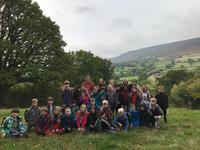 Thank you to our Year 5 children who were fantastic ambassadors for our school during their visit to Longtown Outdoor Learning Centre in Wales. You showed real resilience with all the activities and were ready to take on new challenges!
Thank you also to our CPS staff who supported our children (and also challenged themselves!) throughout the visit.
There will be a lot of tired children heading home this weekend, full of stories to tell - and lots of washing too!