Bishop Viv Faull
Bishop Viv Faull
22 October 2018 (by Emily Piti (cathedraladmin))
Enthronement of the New Bishop of Bristol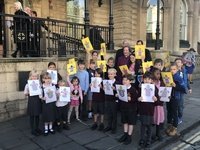 The Enthronement of the new and first female Bishop of Bristol took place on Saturday 20th October.
A group of Cathedral Primary School children were there to welcome her as she arrived on the Tower Bell boat at the waterfront.
Our children we great ambassadors for our school as they accompanied Bishop Viv on her way to the Cathedral. They watched as she had to knock 3 times on the great west wing doors followed by a fanfare of trumpets - it was quite a spectacle to see!