Fly a Flag
Fly a Flag
11 March 2019 (by Emily Piti (cathedraladmin))
Commonwealth Day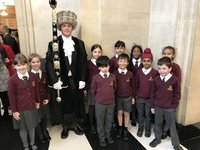 Bristol was among many cities, towns and villages in the UK raising the Commonwealth Flag today as part of Commonwealth Day.
A small group of Year 3 children attended the short ceremony which took place on College Green this morning. Along with children from CPS & BCCS the event was also attended by Bristol's Lord Mayor, Cleo Lake, the Lord-Lieutenant, Peaches Golding, who read out a message from the Queen as well as many other figures from across Bristol.
The children were especially interested in The Bearer of the Sword who wore a fur hat, large black coat and carried a 600 year old sword!