Phonics
At Cathedral Primary School, we teach phonics using a validated programme called Unlocking Letters and Sounds. This scheme teaches Phonics systematically. Children are taught letter sounds (phonemes) and the corresponding way to write the letter (graphemes). They are then taught the skill of decoding through blending sounds to read whole words and the skill of spelling through segmenting sounds to write words.
To find out more about how we teach Phonics, please click here.
Reading
At Cathedral Primary School our vision for reading is that all children become confident readers, develop their own reading identity and most importantly share a love of reading. Throughout the whole school we encourage all of our children to read for pleasure.
We have a structured and systematic approach to the teaching of reading. In EYFS and Key Stage 1 we use a Phonics programme called Unlocking Letter and Sounds. Children in Years One to Six have a daily reading lesson following the CUSP Curriculum.
Each day, all children have a read aloud story time during which teachers read carefully selected books to their class. We aim to encourage a love of reading through events like celebrating world book day, trips to the local library and author visits.
Click here to view our Reading Curriculum
Click here to view our Long Term Sequence.
Click here to view our EYFS - Year 6 Literature Spine
Click here to view a voice over recording of the slides that were presented at our Reading Curriculum event prior to the workshops.

Writing
It is our intention at Cathedral Primary School for all children to become creative, imaginative writers and be given a wealth of opportunities to do this. It is our belief that children must be immersed in quality literature and develop a love of stories from the earliest possible age. We do this through a book study approach, where the children will be fully immersed in the language, story and world of a book each term. Across the school, the immersion process can include talking the text; drama and role play; and art and design activities linked to the book. Following this, they are given creative writing opportunities linked to the book. Each year, the children will explore a range of fiction and non-fiction genres and we will progressively build their understanding of writing features through discrete teaching of grammar.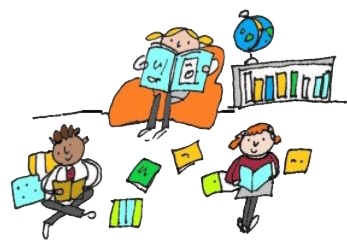 .