Living Streets
Living Streets
8 February 2019 (by Emily Piti (cathedraladmin))
Photography Competition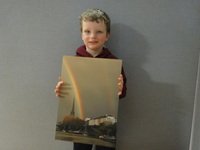 As part of the Living Streets Travel Tracker scheme, our children took part in a photography completion.
Children were asked to take a photo of something they see on their way to school and email it into us. We had some fantastic entries with all kinds of interesting subjects.
Our winner was this super photo from a child in Reception Class. We also had two very worthy runners up.
We know the children are already talking about what photos they can take next year!